Description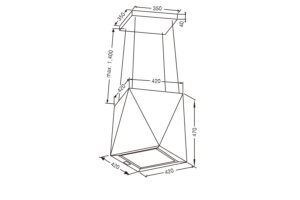 Product summary
A high-performance island hood made with Swiss sophisticated technology, it features a diamond-shaped design made of steel.
※ It is the same product as Hanssem.
detailed description
– Dimensions: 420(W)x420(D)x470(H) mm
– Type: Ceiling Fixed
– Color: Silver
– Material: Stainless Steel
– Voltage / Power: 220V, 60Hz / 250W
– Airflow: 190 / 270 / 330 / 350 ㎥/h (1st / 2nd / 3rd / 4th)
– Others: Aluminum metal filter remote control adjustment method, halogen lighting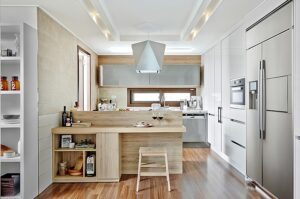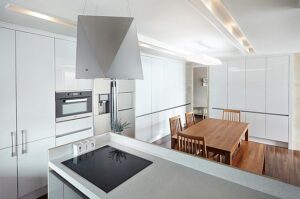 A space where children gather
. In the past, Jootropical (gas stove) looked at the wall, so he said that he felt disconnected from his family while cooking, so he moved to Ireland. We installed a wing wall at the front of the island to cover up the messy cooking area and prevent items from falling. It is recommended for homes with children. In the past, because it was a gas stove, children were never allowed to come to the side of the heating table to avoid getting burned, but now it has been switched to induction, and I am proud that the children are also participating in mother's cooking even when their mother cooks.

It boasts the largest airflow in its class of 375m2/h and is an internal circulation type hood that does not require additional construction by using a carbon filter.
LED lights have a long lifespan, so there is no need to replace the lamp and consumes less energy.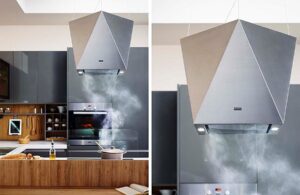 It creates a quiet and pleasant kitchen environment by strongly inhaling unpleasant odors and smoke by using a low-noise, high-performance motor.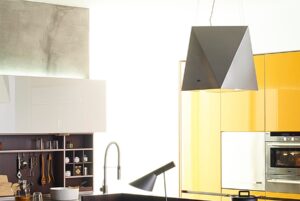 It can be easily cleaned by using an aluminum metal filter and can be used semi-permanently.
※ Precautions
When cleaning the aluminum filter, be careful not to injure your hand as it is sharp.
It will last longer if cleaned regularly.
Clean the metal filter by dissolving a neutral detergent in hot water once every 3 months.
It is recommended to replace the carbon filter inside the hood after 200 hours of use (about 4 to 6 months).