Description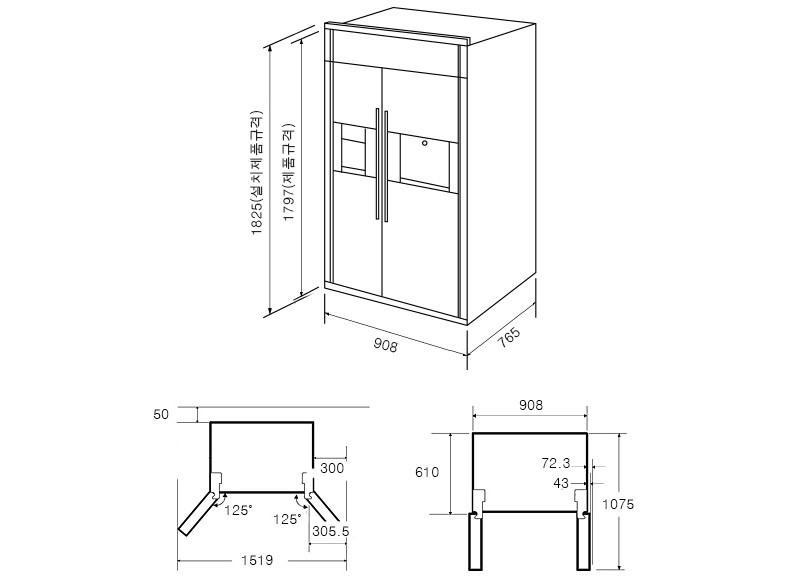 Product Summary
Semi-built style
83 cm wide cabinet / drawer freezer
Double folding shelf, easy partition
Dual eco compressor
Triple independent cooling
Real Metal + Contour Design
Digital inverter compressor
Detailed Description:
Specification: 908(W) × 1825(H) × 762(D)
Capacity: Total capacity: 663L / Refrigeration room capacity: 124.5L / Refrigerator: 414L / Freezer: 124.5L
Power consumption: 28.3kWh/ Wall
Cooling method: Triple independent cooling
---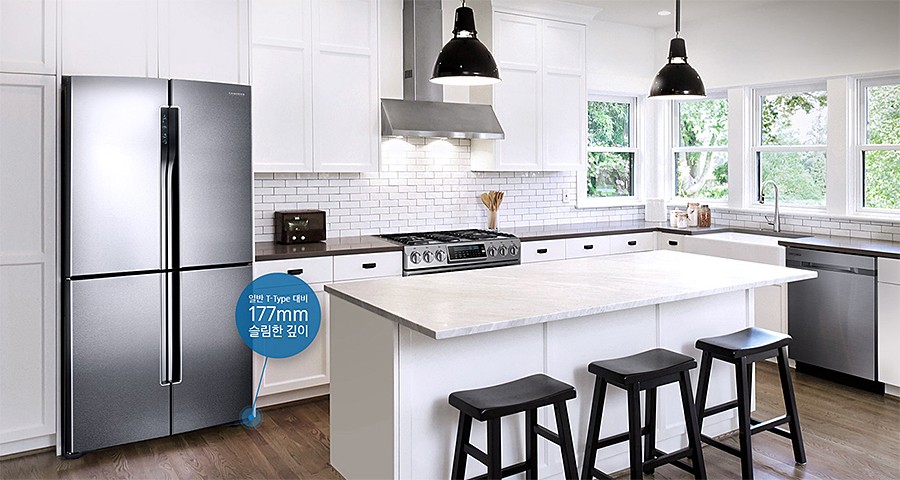 Semi-Built-in Style
Zipel Semi-Built-in Style takes into account the depth of kitchen furniture and completes the neat kitchen line.
The semi-built T Type refrigerator boasts a 177mm slim depth compared to the general T Type.
---
83 cm wide cabinet / drawer-type freezer
The frequently used refrigerator compartment is up! The freezer with a lot of heavy food is down! There is no bulkhead in the spacious and wide refrigerating room where you can see the entire refrigerating room at a glance, so you can conveniently store long snow crabs and bulky foods, and the freezer with movable shelves like drawers makes it easy to take out food stored deeply. You can keep organized by type.
---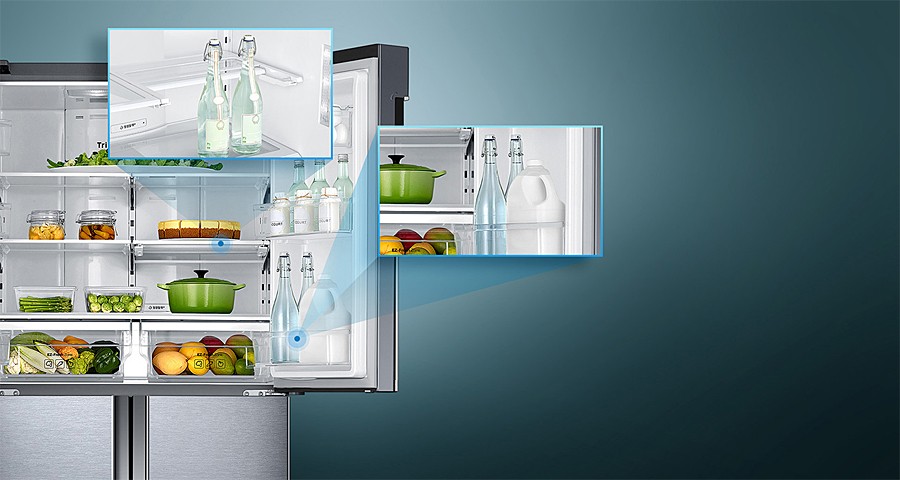 Double folding shelf and Easy partition
shelf can be folded to store tall watermelons and large pots. Also, if you use a partition, you can store food separately, and you can conveniently store large milk bottles and beverages.
---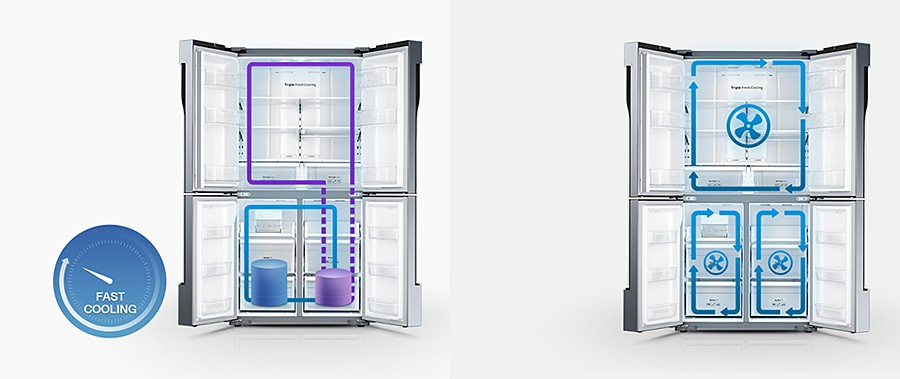 Dual Eco Compressor
Fast and fresh with 2 compressors! The refrigerator compartment is a compressor specialized in refrigerator compartment! The freezer is a freezer dedicated compressor! The ingredients are kept fresh because they are turned professionally at each temperature.
Triple independent cooling
3 coolers separately fresh! Triple independent cooling delivers cold air separately to the refrigerator, freezer, and true flavor freezer to keep food fresh without mixing odors.
---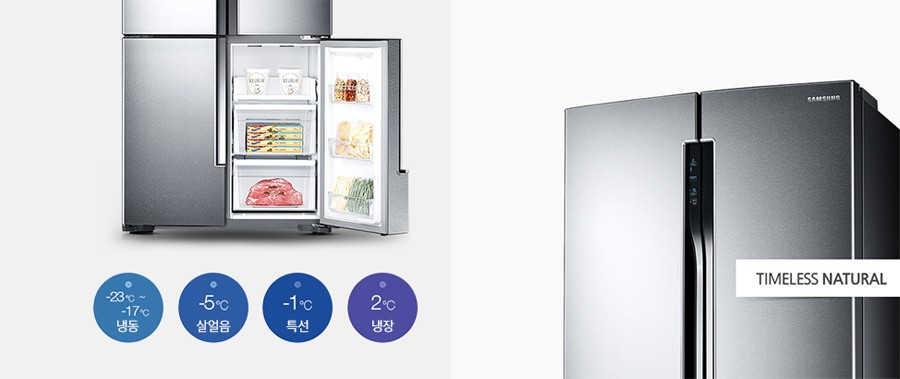 The four-stage truemat freezer
multi-temperature conversion allows you to keep fresher storage with the upgraded real taste freezer that can be switched from 2℃ to -23℃ in the freezer in 4 steps.
※ Available temperature for true flavor freezer: freezing -23℃ ~ -17℃, thin ice -5℃,
special selection -1℃, refrigeration 2℃
Real Metal + Contour Design
Stylish and neat real metal and detailed patterns deliver the impression of the original feeling that does not change over time. The elegant curved contour design is combined with real metal materials to create a shiny design that does not change over time.
---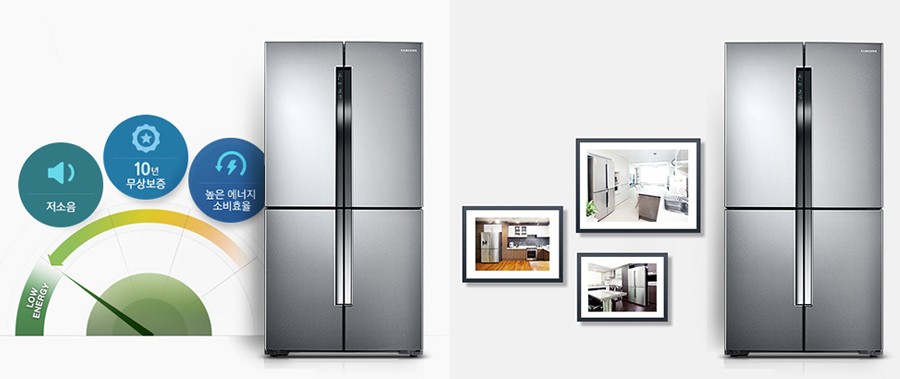 Digital Inverter Compressor
Samsung Digital Inverter Compressor boasts excellent performance with a 10-year warranty. Energy saving is possible with high energy consumption efficiency, and food ingredients can be kept fresh by operating in an optimal state by adjusting the number of revolutions according to the usage conditions.
Refrigerator Interior Pictorial
Check out the kitchen interior completed through Samsung refrigerators of various types and designs.